Disclaimer:  I received an entry to the DC Wonder Woman 10K Virtual Run Presented by Amazon to review as part of being a BibRave Pro. Learn more about becoming a BibRave Pro (ambassador), and check out BibRave.com to review, find, and write race reviews.
At this point, I think most of us have accepted the fact that if we want to participate in a 2020 race, we will have to do so virtually. Although I have seen a number of in-person races being held in recent months, I personally would not feel comfortable running them with the pandemic still not under control.
I originally signed up for this race before it went virtual. I especially loved the empowering theme for women, with its promotional #IAmWonderWoman tag. The original Wonder Woman show starring Lynda Carter aired for three seasons, spanning all four of my high school years. I loved the show and I fondly remember tuning in to watch each week (I mean, her name is Lynda but she spelled it wrong, but that's okay). I consider myself strong and fiercely independent, so the Wonder Woman theme was right up my alley.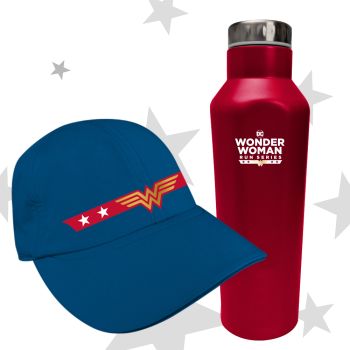 The swag for this race was a throwback to those memories, and includes this awesome long-sleeved, quarter-zip shirt, wrist bands, and Wonder Woman tote. In addition, registrants can purchase this hat and water bottle during online registration.
Shortly after the race went virtual, I was asked to share the inspirational story behind my Wonder Woman-themed run. In part, this is what I wrote:
While pregnant with my 3rd child and working full time, I decided to go back to school for my PhD. Eight months into the pregnancy I was driving 56 miles one way to campus for some of my classes. A few years into the program, with three boys under the age of 7, my father died suddenly and unexpectedly, and I was left to help care for my mother. A year later I started a home-based business and a year after that, I picked up a second job part time (all while still in my PhD program and building my home-based business).
Today my business is flourishing and my mom, now 91 years young, has lived with us for the past 10 years. My boys are grown and have the vision of their mom being strong, powerful, and independent.
Looking back, I don't know how I did it. My husband maintained the house and became quite the cook, which was a huge help. We definitely have had our challenges over the years, but I can honestly say, I wouldn't change a thing!
When running this virtual race several weeks ago, I reflected on those thoughts. That's actually one of my favorite things about virtual races – getting the distances in or completing a challenge, all on my own time and with nothing but my own thoughts to keep me company. In recent months, my family and I have faced some significant challenges. I continue to reflect on the challenges I've faced in the past, all of which have only served to strengthen and prepare me for anything life throws my way. The news of Helen Reddy's passing today reminds me once again:
Oh yes, I am wise, but it's wisdom born of pain
Yes, I've paid the price, but look how much I gained
If I have to, I can do anything
I am strong, I am invincible…I am WOMAN
What empowers you? How are you doing in this virtual-race world? Register now for either the 5K or 10K distance using this link and then plan your route and run anytime between now and November 1st. You can purchase additional related items on Amazon using this link.
Check out this additional review by my fellow BibRave Pro Mike
*     *     *    *     *     *     *     *     *
On (or off) my 2020/2021 Race Calendar:
January 9 – 12, 2020:  Walt Disney World Dopey Challenge, Orlando, FL
March 1, 2020:  Tokyo Marathon DEFERRED to 2021 or 2022
March 15, 2020:  Amita Health St. Paddy's Day Half Marathon, Bolingbrook, IL POSTPONED until September FURTHER POSTPONED until March, 2021
May 2, 2020:  Cinco de Miler, Chicago, IL Gone VIRTUAL
May 23, 2020:  Soldier Field 10 Miler, Chicago, IL Gone VIRTUAL
June 21, 2020:  Wonder Woman 10K, Chicago, IL Gone VIRTUAL
July 12, 2020:  Across the Bay 12K, San Francisco, CA Gone VIRTUAL
September 12, 2020:  Run Mag Mile, Chicago, IL CANCELLED
October 4, 2020:  Bucktown 5K, Chicago, IL CANCELLED
October 11, 2020:  Chicago Marathon DEFERRED to 2021